Leave A Review Competition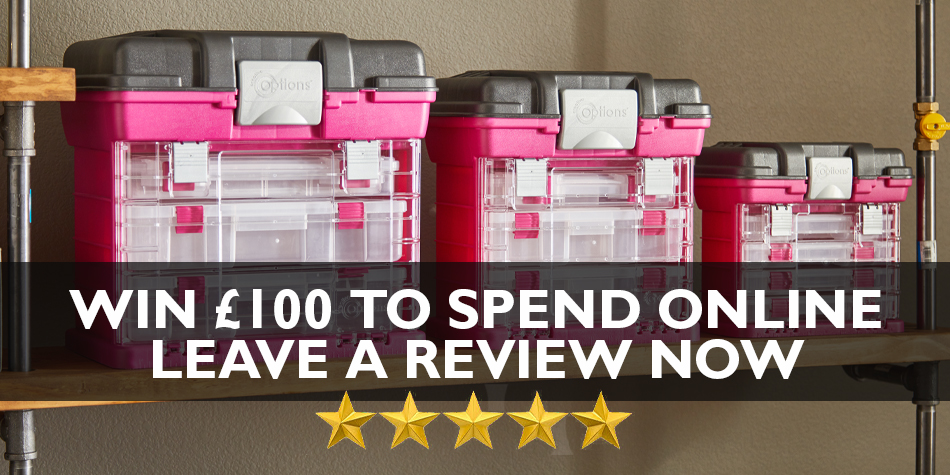 We value your feedback!
To say thank you for shopping with Creative Options, you're invited to enter our exclusive competition.
To take part, simply tell us what you think of your latest purchase by leaving a review on the Creative Options website.
You will then automatically enter our quarterly prize draw for your chance to win a £100 to spend on the Creative Options online store.
Leaving a review is simple. Just follow these steps:
1. Find the product you purchased and wish to rate, scroll to the bottom of the page
2. Use the name on your order
3. Select a star rating for the product and enter your review.
4. Click on 'Submit'.
---
Please include the name used on your order otherwise we will not be able to consider your entry. Allowed are multiple reviews for multiple products purchased, however, only one review per product. Please note that purchase does not enhance the chance of winning.
To qualify all reviews must adhere to the Survival Aids editorial guidelines. They should be helpful and informative and not merely a statement that a product is good or bad. They should focus on product quality, its pros and cons and personal experience. Minimum of 50 words is required. Reviews need to be original as we will not accept reviews copied from other websites. Inappropriate reviews will be disqualified at the sole discretion of Creative Options.
Consumers that post reviews meeting these guidelines will have their review published and will be automatically entered into the prize drawing. The winning entry will be drawn at random on the first working day of every quarter. Entries must be received by midnight on the last day of the month to be entered into the next month's draw.
Each winner will receive a single-use voucher worth £100 valid for 12 months starting from the date of receipt. There is no cash alternative or other prize substitution to the stated prize, and the Creative Options administrator's decision is final. Voucher can't be used in conjunction with any other offer.
The winner will be notified by email within 15 days of the drawing taking place or/and through Creative Options social media channels. A list of winners will be made available by contacting Customer Service at enquiries@creativeoptionsuk.com. Creative Options reserves the right to publish the names of the prize winners online.
The contest is organised by Cadet Direct LTD (trading as Creative Options), Unit 4 Sybron Way, Crowborough, TN6 3DZ, East Sussex, United Kingdom, also referred to as the Organiser, provides the Prize.
---
1. By submitting an entry, you fully and unconditionally agree to and accept these Official Rules.
2. Eligibility. You must be at least 18 years old to enter. Employees of the Organiser, their children, parents, spouse, and members of their household are ineligible to participate. The Organiser is not responsible for lost, deleted, incomplete, or late entries.
3. The Organiser reserves the right to, without prior notice and at any time, terminate the contest, in whole or in part, or modify it in any way, should any factor interfere with its proper conduct as contemplated by these Official Rules. The Organiser reserves the right in its sole discretion, to cancel the contest in its entirety if it becomes technically corrupted or because of non-authorised human intervention. In a case of cancellation of the contest, the Organiser will post information regarding this across Creative Options social media channels and via email.
4. All entries become the exclusive property of Cadet Direct LTD and will not be acknowledged or returned. By entering this competition, contestants agree for their emails to be used to help choose, announce and contact the winner. Any personal information collected will be used in accordance with European Union's General Data Protection Regulation (GDPR), the Data Protection Act 1998 and other applicable laws.
5. In the event of a dispute regarding who submitted an online entry, the entry will be deemed submitted by the authorised account holder of order number.
6. The winners must agree to the use of their names for advertising or promotion without further compensation. The winners will be notified by email or/and through Creative Options social media channels. An email will be sent to the winners within one week after the drawing. Should the email be returned to the Organiser as invalid or winners fail to contact the Organiser, two more attempts will be made via email. The winners must contact the Organiser within 15 calendar days from the date the notification is sent to claim their prize. Failure to contact the Organiser within that 15 day period will result in immediate disqualification of the selected entrant. No exceptions will be made to this rule. The Organiser is not responsible for and shall not be liable for late, lost, misdirected, or unsuccessful efforts to notify winners. All decisions are final and binding.
7. Other conditions. Organiser, its advertising, promotion and fulfilment agencies and legal advisers are not responsible for and will not be liable for (I) late, lost, damaged, misdirected, incomplete, unintelligible or postage due entries; (II) telephone, electronic, hardware or software program, network, Internet or computer malfunctions, failures or difficulties of any kind; (III) failed, incomplete, garbled or delayed computer transmissions; (IV) any condition caused by events beyond the control of Organiser that may cause contest to be disrupted or corrupted; (V) any injuries losses or damages of any kind arising in connection with or as a result of the contest, or from participation in the contest; or (VI) any printing or typographical error in any material associated with the contest.
8. Indemnification. You agree to release and hold Organiser, its employees, advertising, promotion and fulfilment agencies, and legal advisors, harmless from any and all losses, damages, rights, claims and actions of any kind in connection with the contest, including without limitation, personal injury, death and property damage, and claims based on publicity rights, defamation or invasion of privacy.
9. This contest is in no way sponsored, endorsed or administered by, or associated with, Facebook, Instagram, Twitter. You understand that you are providing your information to Cadet Direct LTD, the Organiser, not to Facebook, Instagram or Twitter.
10. These regulations come into force on the date of commencement of the competition (01.10.2019).
11. The Organiser reserves the right to edit, discontinue or revise these Terms and Conditions (also during the contest).
12. In all matters relating to the contest, please contact the Organiser via email: equiries@creativeoptionsuk.com